Single-Ply Systems
We offer 2 types of Single-Ply Systems:
Hy-Crown® Single-Ply System

• Stop leaks

• Long-term protection

• Lower energy costs

• Chemical resistant

• Lighter weight than built-up roofs


Flexion™ Single-Ply System

• Lower cooling costs

• Long-term durability

• Favorable life-cycle costs

• Easy to install, maintain, repair

Quick Fact:
Sixty percent of all commercial buildings in the United States are covered
by single-ply roofing systems!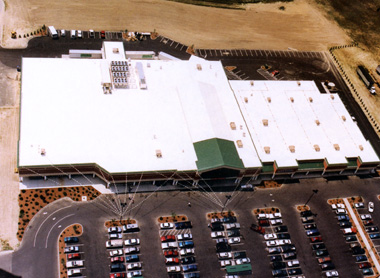 Hy-Crown® single-ply system is extra-tough because it's manufactured with Hypalon®, a synthetic rubber made by DuPont. Hypalon is one of the most durable materials in the single-ply roofing market and has a track record of more than 25 years. Many architects, building owners, plant engineers and roofing contractors rely on Hypalon roofing systems such as Hy-Crown for reliable, leak-free commercial and industrial applications.
Click to view Hy-Crown Single-Ply System video (51.75MB)*

*If you experience problems downloading video, contact us for a copy info@whiteroofs.net

Put Your Roof on a Diet and Lighten the Load!
The Conklin Hy-Crown single-ply system has the versatility to be mechanically fastened, fully adhered or ballasted. Because it can be mechanically fastened, it doesn't need heavy ballast that some other single-ply systems require. The thin, yet amazingly durable, membrane reduces a roof's weight to less than 1 pound per square foot. That's less stress on the overall roof structure.

Resists Chemical Attack
Hy-Crown's Hypalon material gives your roof solid, long-term protection from pollutants that can attack the surface of a commercial or industrial roof. Hy-Crown stands up to:

• Vegetable oils (common on restaurant roofs)
• ASTM No. 1 oil (common around refineries)
• Glycols (a byproduct of air conditioners)
• Acid rain

Superior Seam Strength
Seams on a Hy-Crown roof can be heat-welded or solvent-welded. The resulting bond is up to six times stronger than seams of an EPDM roofing system. Your chances of seam failure (and resulting leaks) are greatly reduced with a Hy-Crown job.

Energy Efficient
You can cut your air conditioning costs by installing a white reflective Hy-Crown roof. Tests show that the surface temperature of a white roof rose only 4 degrees during a sunny 85 degree summer day. The surface temperature of a black roof rose 42 degrees under the same conditions.

Over time, this reflectivity can translate into significant energy savings. One study estimated that a 50,000 square foot building in Chicago would save more than $19,000 in energy costs over 10 years. The same structure in Phoenix would save over $57,000 in the same time period. A Hy-Crown roof gives you a good return on your investment.

Fire and Wind Resistant
Hy-Crown meets accepted industry standards for fire resistance and wind uplift. They system has earned several Class A UL-790 fire resistance ratings for both combustible and non-combustible substrates. Plus it passes the Factory Mutual I-60 and I-90 wind uplift tests.
Flexion is an excellent choice for both new and re-roofing applications. In addition, the membrane can be mechanically fastened, fully adhered or ballasted, giving you the flexibility in all types of application scenarios. With an 83 percent solar reflectivity, Flexion's Energy Star approved membrane provides fantastic protection from the elements and keeps you comfortable inside even when the weather is not cooperating outside.

Protection from Mother Nature
Look up Flexion in the dictionary and you will find that it refers to the act of flexing or bending. That's exactly what Conklin's newest roofing system is designed to do. Conklin's Flexion provides a tough, yet extremely flexible, 50-mil barrier between you and the elements. The Flexion System's advanced Polyvinyl Chloride (PVC) thermoplastic formulation has been reinforced with Dupont Elvaloy® and a 1000-denier, low-wicking fabric, providing superior strength, stability and flexibility over the long haul. In addition, Flexion features natural fire resistance, easy maintenance and favorable life cycle costing. Combine all these built-in features with years of proven performance and excellent sales support from Conklin and you have an investment with unsurpassed cost-effectiveness. With Flexion, you're protected against the worst Mother Nature can dish out.

The Smart Long-Term Investment
We look at a roof as a long-term investment, not just another expense. When you look at life-cycle costs, the Conklin Flexion single-ply system is a proven and economical solution to your roofing needs. Our systems require less maintenance than other types of roofs. They last longer! Also, take comfort in the fact the Flexion's chemical formulation is naturally fire-resistant and has been recognized by all major code approval agencies. So, rest assured that the Conklin system installed on your roof is ready for years of reliable, trouble-free service.

Return on Investment—Now that's "Cool"!
There is more. Building owners will be pleased to learn that the Flexion System features favorable life cycle costing, a concept foreign to traditional black roofing products available on the market. Flexion's highly reflective surface reflects away 85 percent of the sun's ultraviolet rays, keeping the roof cooler. And a cooler roof means a cooler work or living space below. In fact, a "cool roof" membrane can do something dark surfaced roofing could never do—pay for itself in energy savings in an average of four to seven years!