Lasting Protection Where You Need It Most!
Metal roofs are frequently specified by engineers, architects, and contractors because they are lightweight, durable and relatively easy and inexpensive to install.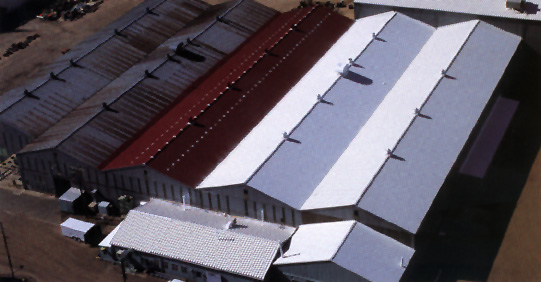 But they have one major weakness. Leaks often develop along the seams of metal roofs due to rust or corrosion, deterioration of fasteners, poor joint design, or structural settling. Fortunately, you can compensate for these problems with Conklin's Metal Roofing System.
Conklin's Metal Roofing (MR) System protects your investment and your profitability. The system is designed specifically to prevent leaks where they occur the most—at the seams. Our unique combination of liquid-applied acrylic base coat, flexible polyester fabric or butyl tape, and white reflective topcoat provides durable, waterproof finish that will reduce expansion and contraction and prevent leaks from ruining your roof and possessions inside.
Another benefit of the MR System is cooling the roof surface and reducing energy consumption to cool the buildings interior. An independent research study in Florida concluded that by installing the Conklin MR System, over 25% average reduction in summer cooling energy occurred. This translates to reduction of utility costs.
Click to view MR System video (47.43MB)*
*If you experience problems downloading video, contact us for a copy info@whiteroofs.net
Complete Coverage in Five Easy Steps
The Metal Roofing System is easy to install and won't disrupt your business or work. Here's how this innovative system works:
Step 1: Surface Preparation
Loose rust and scale are removed by high pressure washing.

Pressure Washing

Step 2: Metal Ready®
The roof is primed with Metal Ready®, Conklin's rust inhibiting metal primer. It forms a strong, protective barrier to inhibit rust from forming on steel surfaces. Even where rust has a foothold, Metal Ready's special anticorrosion agents act to inhibit further spread of the oxidation process.
Step 3: Seal All Fasteners with Kwik Kaulk®
All fasteners are sealed with Kwik Kaulk®, Conklin's acrylic caulking compound.





Step 4: Treating the Seams
The base coat and Spunflex fabric reinforcement or Conklin butyl tape are applied along all vertical panel joints. Conklin butyl tape is used on horizontal seams.
Sealing Vertical Seams
Sealing Horizontal Seams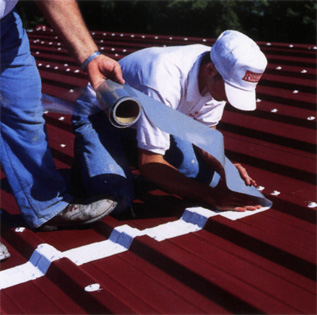 Sealed Roof Before Final Coat


Step 5: Reflective Top Coat
A white reflective top coat is applied over fabric-reinforced joints and screws. The white reflective top coat has 85% reflectivity and 338% elongation.

Spray Applying Reflective Top Coat
Completed Project