A Quality, Economical Solution Your Aged EPDM Roof & Existing Reroofing Needs!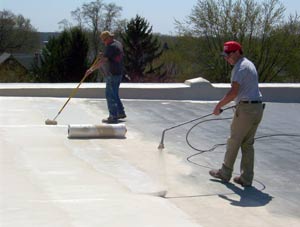 Who can afford to take chances? With Conklin's newest roofing system, you can extend the life of your existing EPDM roof system and save on energy costs at the same time. This system is an effective and economical alternative to tearing off your roof and starting over.
The EPDM Coating System is a four step system using the new WAC II roofing surface cleaner, the new Conklin Tack Coat or primer and, Conklin's proven Rapid Roof III® top coat. Used together, this system allows you to fix leaks in your existing EPDM roof, instead of replacing it.
In fact, Conklin coating systems are sustainable indefinitely with periodic re-coats to upgrade the coating.
The light colored coating of Rapid Roof III topcoat reflects 84 percent of the sun's energy from your EPDM roof, compared to only five percent reflectivity for typical dark-colored EPDM roofs. The Conklin EPDM Coating System extends the life of your roof by shielding it form those harmful rays—less shrinkage and thus fewer leaks. The high reflectivity also lowers the temperature of your roof by as much as 30 or even 50 degrees, which means less money spent cooling your building!
The Difference is Black and White!

Ambient=Air Temperature


Surface=Roof Temperature

Complete Coverage in Four Easy Steps

Step 1: Surface Preparation

WAC II roofing surface cleaner is applied to the roof to prepare aged EPDM membranes before applying the Conklin EPDM coating system.

Pressure washing entire surface to remove aged surface pigment and dirt.

Step 2: Tack Coat®

The roof is primed with Tack Coat® EPDM primer. Conklin's Tack Coat promotes adhesion between cleaned EPDM roofing and Conklin's Rapid Roof III acrylic elastomeric roof coating. When used on aged EPDM roofs cleaned with WAC II roof cleaner, the gray Tack Coat effectively prepares the membrane to receive the highly reflective, energy-saving finishing coat.

Step 3: Rapid Roof III® Base Coat

Rapid Roof III® base coat and Spunflex fabric reinforcement are applied to the roof. Rapid Roof III® is designed to be lightweight, flexible, seamless and weatherproof.

Step 4: Reflective Top Coat

A white top coat is spray applied. This results in a white reflective, fully adhered seamless membrane.

Completed Project